WSET® Wine Courses
Level 2 - Award in Wines and Spirits (in English language)
Who should attend?

This qualification is popular with wine and spirit employees and will give students excellent all-round product knowledge. The course is also suitable for the interested consumer.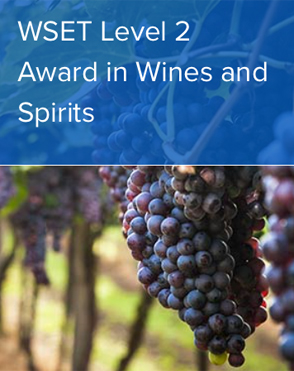 How will you benefit?

The aim of the course is to focus on the key grape varieties and regions of the world, and principle varieties of spirits.

(Successful students will receive a WSET Level 2 Award in Wines and Spirits certificate and lapel pin.)


Programme outline
- How wine is made and other factors influencing the style of wine
- Key white grape varieties
- Key black grape varieties
- Wine-producing regions of the world
- Sparkling wines
- Sweet wines and fortified wines
- Spirits and liqueurs
- Label terminology
- Food and wine pairing


Entry Requirements
Students and candidates who are under the legal minimum age for the retail purchase of alcoholic beverages in the country where the examination is being held, will NOT be allowed to sample any alcoholic beverages as part of their course, but this is NOT a barrier for successfully completing the qualification.
(Entry requirements may vary according to Approved Programme Provider)


Registration & Exam
The registration and payment for this course must be made latest 12 working days prior to the examination date. With a shortfall of this period, the WSET® in London charges additional fees that we will have to pass on. We will provide more detailed information on request.

The exam will be held after the last course day as indicated in the course description. Should you wish to take your exam at any later time please contact us.


How to gain the qualification

You must successfully complete a multiple choice paper of 50 questions.
Ort
: Die Seminare des Weininstituts finden in der Regel bei
einfach geniessen - das Studio
in der Augustenstraße 97 in München statt. Der Seminarraum ist hinsichtlich Bestuhlung, Präsentationstechnik und Gläser perfekt ausgestattet.
Seminarunterlagen
:

Preis : 695,00 €
(Hinweis: Umsatzsteuer befreit nach § 4 Nr. 21 Buchstabe a Doppelbuchstabe bb UStG.)
Zur Buchung