WSET® Wine Courses
Level 3 - Award in Wines (in English language)
Who should attend?

This qualification is open to students who hold the WSET Level 2 Award in Wines & Spirits or can demonstrate the equivalent level of knowledge. It is recommended that students complete the Level 2 Award in Wines & Spirits before progressing to the Level 3 Award.
It is a prerequisite for candidates planning to study for the WSET Level 4 Diploma in Wines qualification.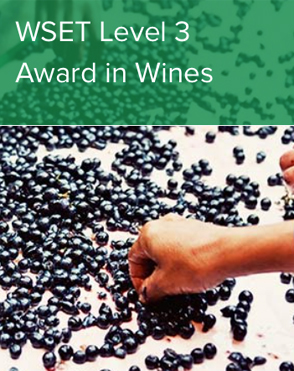 How will you benefit?
The aim of this course is to provide detailed analysis of the principal wines of the world. Students will also benefit from in-depth tastings where they will learn to identify product style and quality.


Programme outline
Unit 1 – Wines of the World
Production of Wine (location, viticulture, vinification, maturation and bottling, labelling regulations)
France, Italy, Spain, Portugal, Germany, Central and South Eastern Europe, South Africa, Australia and New Zealand, North America, South and Central America
Sparkling Wines
Fortified (Liqueur) Wines
Information and Advice for Customers and Staff
This unit is evaluated by a multiple choice paper of 50 questions and a question paper requiring short written answers

Unit 2 – Tasting and Evaluating Wines of the World

WSET Level 3 Systematic Approach to Tasting – how to taste wines and evaluate the quality, style and price
This unit is assessed by a blind tasting paper of two wines


Entry Requirements
Candidates must be over the legal minimum age for the retail purchase of alcoholic beverages in the country where the examination is being held. (Entry requirements may vary according to APP)
Candidates are advised to hold the WSET Level 2 Award in Wines and Spirits before study for the WSET Level 3 Award in Wines.


Registration & Exame
The registration and payment for this course must be made latest 20 working days prior to the examination date. With a shortfall of this period the WSET® in London charge additional fees that we will have to pass on. We will provide more detailed information on request.

The exam will be held later after the last course day as indicated in the course description. Should you wish to take your exame at any later time please contact us.


How to gain the qualification
You must successfully complete:
Unit 1: a multiple choice paper of 50 questions
a question paper requiring short written answers.

Unit 2: full written tasting notes on TWO wines


This course is available on request. At least eight students are required. If you are interested in this course, please contact us:
Bernhard Meßmer: +49 177 318 8877
Stefan Metzner +49 171 741 81 40
info@weininstitut-muenchen.de.
Ort
: Die Seminare des Weininstituts finden in der Regel bei
einfach geniessen - das Studio
in der Augustenstraße 97 in München statt. Der Seminarraum ist hinsichtlich Bestuhlung, Präsentationstechnik und Gläser perfekt ausgestattet.
Seminarunterlagen
:

Preis: 1249,00 €
(Hinweis: Umsatzsteuer befreit nach § 4 Nr. 21 Buchstabe a Doppelbuchstabe bb UStG.)